Jill Schools International school was founded on 9 September 2013. We started in Mandala Township of Blantyre. The reason why we started Jill Schools International school is because we wanted to make the Cambridge Curriculum affordable to all kind of learners from different backgrounds. The name of the school finds its origin in the family history of directors. Jill was one of their siblings who unfortunately passed away way too early. She was a very bright lady and she inspired all of them to reach their fullest potential.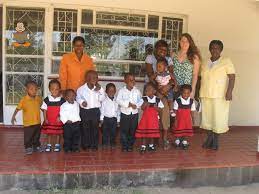 When we started in September 2013, we only had five learners. We started Kindergarten and Grade 1. In the same year the number of students started to grow. By now we have around 150 students and we are offering pre-nursery, nursery, reception and grade 1 up till grade 6. In the academic year 2018-2019 we had the first grade 6 students who sat for their Cambridge exams.
The coming years we will keep improving the school to become one of the best choices for both, students and parents in Malawi.